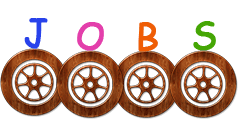 August 20, 2006 a fine Saturday morning, saw a mini revolution happening on the major streets of Bangalore. HR-One Management Consultants Ltd., launched a unique drive called "JOBS-ON-WHEELS".
HR-ONE, in an act of exhibiting the HR fraternity's social responsibility launched India's First Mobile Recruitment Center which services the Job Seekers in and around Bangalore, both Urban and Rural areas, and the Smaller towns of Karnataka. This caters to all the aspiring job seekers/job changers to seek opportunities in the most unlikely places. This is the First-of-its-kind in India. The Mobile Recruitment Center manned by HR Specialists provide Career Counseling too for the Job Seekers.
The Mobile Recruitment Center caters for all levels in IT / ITES / Service / Manufacturing / Biotech / Telecom / Retail / FMCG / Consumer Durables / Banking / Insurance / Logistics / Media Industries and SME Sector.